The Great Depression of 1929 was the worst economic downturn in the history of the industrialised world. It lasted a full ten years.
Black Thursday on 24th October 1929, was a day when a record 12.9 million shares were traded. Five days later, it got even worse when 16 million shares were traded resulting in Black Tuesday. Millions of shares became completely worthless and investors who had bought stocks with borrowed money were completely wiped out.
But if your parents or grandparents had been brave enough to invest £1,000 for you in 1929, how would you have fared?
Stocks and shares
A well-diversified portfolio of UK stocks and shares would have turned £1,000 into £6,738,896 whereas if they'd have invested in fixed interest securities, their holding would now be worth £351,607.
Value of £1,000 invested at the start of 1929
Tax year

31/12/1928

£

31/12/2018

£

UK equities
1,000
6,738,896
Bonds
1,000
351,607
Bills (cash investments)
1,000
79,847
Returns are in nominal sterling terms and gross income is reinvested.
Sources: various including Global Investments Returns Database 2018, Credit Suisee Global Investment Returns Yearbook 2018, Thomson Reuters Datastream, Bloomberg Barclays Sterling Gilt + Bills, FTSE index. Past performance is not a guide for future performance. The value of investments can fall.
Property
Clearly, property has fared well over the past 90 years. The average London property cost £440 (equivalent to £24,948 in today's money) in 1929. Today the average London property fetches £654,730 with the average UK house price being £230,630. Property company Jackson-Stops has said: "It's not the fact that property has outperformed over the last 90 years that is surprising, but the sheer scale of it. The 471-fold increase would take a 65cm pot plant, which could easily fit under a kitchen table, to a giant tree that is taller than London's Shard, standing at 306 metres."
They have also calculated that if prices continue to rise at the same rate as they have in the last 23 years, the average property will cost £1.3m when Prince Charles celebrates his 90th birthday in 2038, and £11.3m when Prince William reaches the same age in 2072. When Prince George turns 90 in 2103, London house prices will average £667m.
While these projections are seemingly unbelievable, if anyone was told back in 1929 that a new house purchase valued at £600 would be worth nearly £654,000 in 90 years' time, it would almost certainly have been laughed out of court.
Gold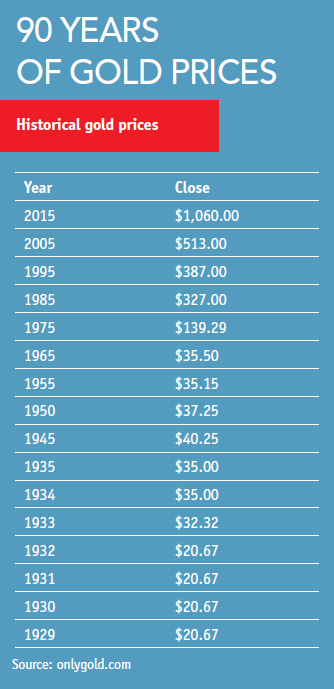 Gold was priced at US$20.67 an ounce in 1929 compared to its current US$323 an ounce. Gordon Brown famously sold half of the UK's gold reserves between 1999 and 2002. Experts estimate this cost the public purse £5 bn. In their defence Whitehall claimed that the Government couldn't have been expected to behave like a precious metal trader when it sold the gold. Gold remains a contentious asset for investment purposes.
Fine wine
What about fine wine we hear you ask? Well a bottle of 1929 Château d'Yquem (often described as the best sweet wine in the world and still a 'must have' these days), probably cost around £1.00 back then (we have been unable to ascertain the exact historical figures).
It would now fetch around £3,500 per bottle. (A 1929 Chateau Margeaux would now set you back around £1,500.)
Yquem is located on the highest hill in Sauternes and is blessed with the appellation's best growing conditions. The wine has a very long life span, 1847 being its best ever vintage, with rare bottles of that vintage recently fetching $100,000+.
Actually, it's only by accident, and a lot of fighting, that Château d'Yquem isn't an English wine. During the Middle Ages, the estate belonged to the British Crown but in the mid 1400's, southwest France was taken back by the French Crown and has remained French ever since. The Sauvage family became full owners of Yquem in 1711. By 1826, the estate had become a true business and was developing an international reputation. The wine has been, and is, much appreciated by famous connoisseurs over the years and Thomas Jefferson was reputedly a fan. In 1996, famous luxury goods company LVMH bought half of the shares for $100m but the new owners and the family members didn't get on which resulted in multiple law suits that dragged on for years. After a long, bitter court battle, LVMH/Moet-Hennessy-Louis Vuitton purchased the remaining shares of the property in 2004.
Cash in the bank
If you, your parents or your grandparents had put £1,000 into the bank in 1929 and left it there, it would now be worth £60,000 (approx.). Not bad for a no-risk investment but nowhere near as good as some of the others.
Purchasing power
If you'd been lucky enough to have £1,000 in cash, in your hand, in 1929, it would have given you purchasing power equivalent to over £60,387 today. That's a difference of £59,387 over 90 years.
Source: Office for National Statistics (ONS)
Conclusion
The stock market investment wins hands down over the long term but it's not for everyone and we recommend that you take professional advice before investing.
For further information on financial planning, please speak to Andrew Tricker, chartered financial planner at andrewtricker@lfwm.co.uk
Please note that this article is based on information deemed relevant at the close of the 2017/18 tax year and going into 2018/19 tax year. Allowances and regulations are subject to change and it is advisable to seek up-to-date advice before acting on any recommendations.